Sale!
Custom Data Tables for Perfex CRM revolutionizes data management by enabling users to effortlessly customize table views, add or remove columns, and integrate custom fields, putting them in control of their CRM data presentation.
Description
Unlock the Power of Data Customization with our Custom Data Tables module for Perfex CRM.
Are you ready to take control of your data tables in Perfex CRM like never before? Welcome to the future of data management with our groundbreaking module, which is designed to empower you with unparalleled flexibility and control over your CRM data, being a game-changer for businesses of all sizes.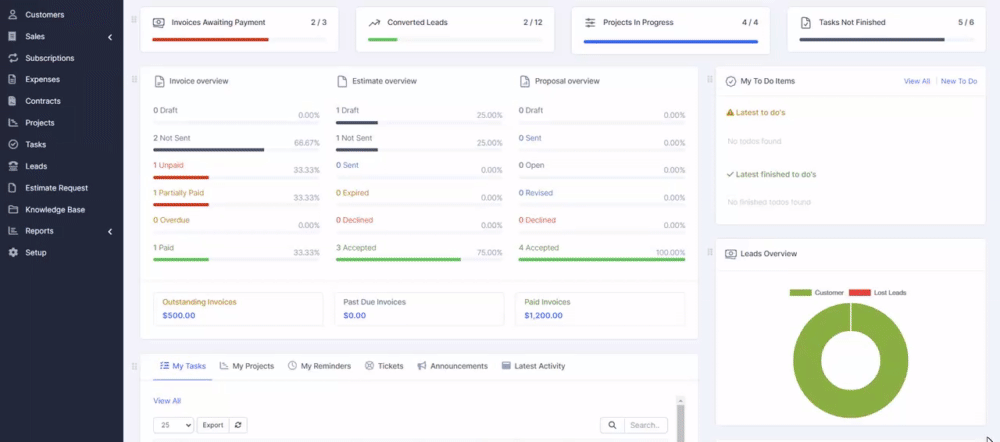 Key Features:
1. Dynamic Column Management: With our module, you can effortlessly add, remove, and rearrange columns in your table views. Tailor your data presentation to meet your unique business needs. Say goodbye to rigid data displays and embrace the freedom to customize.
2. Utilize Unused Data: Unlock the hidden potential of your CRM by incorporating existing data that often goes unused. Make informed decisions by accessing and displaying data that matters most to your organization.
3. Custom Field Integration: Seamlessly integrate custom fields into your table views. No more sifting through multiple screens to access vital information. It's all at your fingertips, right where you need it.
4. User-Friendly Interface (Drag 'n' Drop): Our module boasts an intuitive and user-friendly interface, ensuring that customization is a breeze, even for those without advanced technical skills.
5. Enhanced Productivity: Tailored data views mean improved efficiency. Access the information you need quickly and make data-driven decisions with ease.
6. Custom Table Aesthetics: Change the appearance of your table views, using custom CSS code, according to your needs.
Why Choose Custom Data Tables for Perfex CRM?
In today's dynamic business landscape, data is king. Make sure you're maximizing its potential with a tool that puts you in control. Our module empowers you to customize your data views, improve decision-making, and enhance productivity. Whether you're a small business or an enterprise, this module is designed to meet your data customization needs.
Who Can Benefit?
Sales Teams: Customize your CRM to focus on key sales metrics and customer data.
Customer Support: Streamline support operations by displaying relevant customer information.
Project Managers: Arrange project data for efficient project tracking.
Marketers: Display critical marketing analytics and campaign data.
Administrators: Tailor data views to monitor system performance and user activity.
And More: No matter your industry or role, custom data views can revolutionize your CRM experience.
Stop wrestling with one-size-fits-all data views and start making your CRM work for you. Our module is your passport to data customization, efficiency, and better decision-making.
Get started today and unlock the true potential of your CRM data. Elevate your business with Custom Data Tables for Perfex CRM.
Currently supported Controllers and Data:
Leads (Company, Email, Phone, Value, Tags, Assigned, Source, Last Contact, Position, Description, Country, City, State, Address, Lead Status Change, Website, Public)
Customers (Primary Email, Phone, Groups, Date Created, Vat, Country, City, State, Address, Website, Billing Street, Billing City, Billing State, Billing Country, Billing Zip, Shipping Street, Shipping City, Shipping State, Shipping Country, Shipping Zip)
Proposals (Total, Date, Open Till, Tags, Date Created, Project, Subtotal, Total Tax, Adjustment, Discount Percent, Discount Total, Discount Type, Country, Zip, State, City, Address, Email, Phone, Acceptance Firstname, Acceptance Lastname, Acceptance Email, Acceptance Date)
Estimates (Amount, Total Tax, Tags, Date, Expiry Date, Reference #, Status, Date Send, Date Created, Subtotal, Adjustment, Client Note, Admin Note, Discount Percent, Discount Total, Discount Type, Invoiced Date, Terms, Billing Street, Billing City, Billing State, Billing Zip, Billing Country, Shipping Street, Shipping City, Shipping State, Shipping Zip, Shipping Country, Acceptance Firstname, Acceptance Lastname, Acceptance Email, Acceptance Date)
Invoices (Amount, Total Tax, Date, Tags, Due Date, Status, Date Send, Date Created, Subtotal, Adjustment, Client Note, Admin Note, Last Overdue Reminder, Last Due Reminder, Discount Percent, Discount Total, Discount Type, Recurring Type, Last Recurring Date, Total Cycles, Terms, Billing Street, Billing City, Billing State, Country, Billing Zip, Shipping Street, Shipping City, Shipping Zip, Shipping Country)
Expenses (Date, Project, Customer, Invoice, Reference #, Payment Mode, Tax, Note, Billable, Recurring Type, Last Recurring Date, Date Added, Total Cycles)
Projects (Tags, Start Date, Deadline, Members, Status, Description, Project Created, Date Finished, Project Cost, Estimated Hours, Rate Per Hour)
Tasks (Start Date, Assigned to, Tags, Description, Date Finished, Recurring Type, Rel Type, Hourly Rate, Last Recurring Date)
Contracts (Contract Type, Contract Value, Start Date, End Date, Signature, Content, Description, Date Added, Acceptance Firstname, Acceptance Lastname, Acceptance Email, Acceptance Date, Last Sent At, Last Sign Reminder At)
Currently supported areas: